Valves & Pumps
High efficency, compact constrution and superb reliability are core requirements for our modern circulation Pumps and Valves.
Valves & Pumps
Valves – Solenoid valves from Pierburg and Bitron.Brass fittings 16 mm and 19 mm available.
Pumps – We supply pumps from SPX Flow, one of the leadingpump manufacturers in Europe.Max system pressure 2.5 bar.Glass fiber reinforced plastic, stainless steel.Motor protection IP67.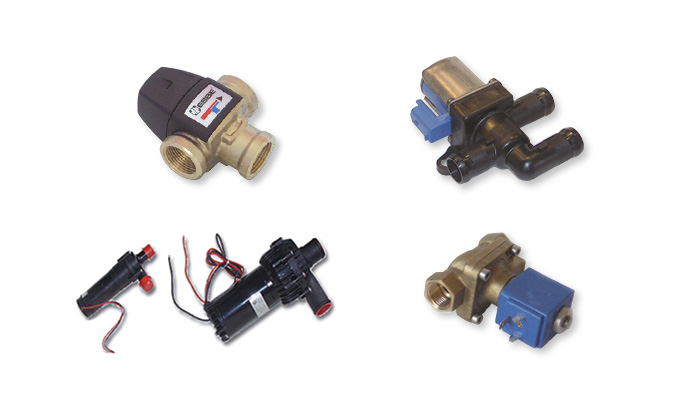 | Art no | Voltage | Power Consumption | Flow l/min | Pipe Ø (mm) |
| --- | --- | --- | --- | --- |
| 900160 | 12V | 1,2A | 15 | 16 |
| 900161 | 12V | 2.2A | 22.5 | 20 |
| 900163 | 24V | 2.2A | 22.5 | 20 |
| | |
| --- | --- |
| 900114 | Bitron 3-way, 12VDC, N/C, 20 mm connection |
| 900111P | Pins for Bitron valve |
| 900111C | Plug for Bitron valve |
| 900202 | Pierburg 2-way, 12VDC, N/O, 20 mm connection |
| 900250 | 4-way non return valve |
| 900302 | Tork 2-way, 12VDC, N/C |
| 900302-16 | Incl 16 mm connections |
| 900302-19 | Incl 19 mm connections |